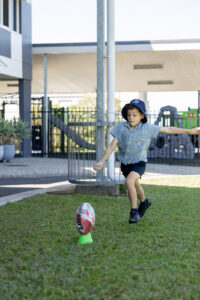 Good Counsel Primary School is a popular Catholic primary school in the Far North Queensland township of Innisfail.
As the largest non-government primary school in the Innisfail district, Good Counsel Primary School offers parents real choice. Together with our sister Catholic primary schools – St Rita's at South Johnstone, St John's and St Clare's to the south at Silkwood and Tully, and St Rita's to the north at Babinda – our schools are well known for being inclusive, welcoming to all, and surprisingly affordable.
Catholic primary school students receive enrolment priority at the region's highly regarded, sole Catholic Secondary School, Good Counsel College which is located directly across the street and close to the Innisfail CBD, making the transition to the College from Good Counsel Primary seamless.
Being a Catholic school, GCPS provides a holistic education that focuses not only on high academic standards, but also on the wellbeing and development of the whole child – socially, emotionally, spiritually, physically and culturally.
Academically, Good Counsel Primary School's NAPLAN results are outstanding in comparison with other schools in the region. The school has dedicated and caring staff, provides full-time learning support and offers two Prep classes with full-time teacher aides.
Ultimately, there is far more to a quality education than merely academic results. The children at GCPS are happy! Here, we value and respect the individuality of each child. Their social and emotional wellbeing is paramount, allowing them the opportunity to flourish and reach their potential in their academic life as well as in life generally.
GCPS is ideally sized at around 330 students – big enough to offer the resources and choice afforded by a larger school, yet small enough so that each child is known individually and greeted by name by Principal, Liam Kenny.
The school's resources are outstanding – new, modern and state-of-the-art. The school has a strong emphasis on technology, with 1:1 laptops and iPads for student learning. The new library and theatrette complex is the hub of the school, and the very large undercover area that extends onto the oval at the rear of the school provides ample room for year-round sporting and physical activities in one of Australia's wettest regions.
Students take part in specialist Physical Education programs and an excellent range of sporting activities year round, including Netball, AFL, Cricket, Rugby League, League Tag, Touch Football, Soccer, Athletics and Futsal.
Cultural engagement is emphasised with specialist programs in Music, LOTE (Italian), Instrumental Music and Choir.
Spiritual development, focused on a faith-filled and values-based education, offers a strong foundation for a life of worth, not merely a life of work. Opportunities abound in mission and justice, moral and spiritual growth, and are fostered throughout the school.
Good Counsel Primary School is a melting pot of cultures, religions, backgrounds and abilities. The school community is welcoming to all, caring and friendly. Fees are affordable (about $40 per week), discounts apply for siblings at Good Counsel College, and scholarship opportunities are available (enquires welcomed), as no child is denied a Catholic education on the basis of genuine financial hardship.
Visits to the school at any time for a personalised tour with Principal Liam Kenny are welcome and can be arranged by phoning (07) 40630600 or emailing secretary@gcps.qld.edu.au .
Take the step and experience the Good Counsel Primary School difference!