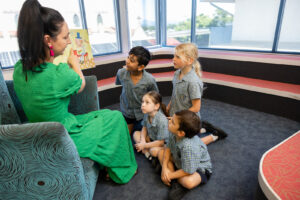 Currently, on staff we have 14 classroom teachers, Leader of Diversity, Leader of Curriculum, specialist Physical Education, The Arts, LOTE teachers, School Officers employed in various capacities and programmes, and support staff including a grounds person and cleaners.
Teaching staff are fully registered with the College of Queensland Teachers and many hold Bachelor or higher degrees.
Staff members are a mix of older and younger teachers with a strong commitment to Catholic education and working in partnership with parents.
To know more about teacher accreditation, Click here.
Leadership Team
Our leadership team comprises our Principal and Assistant to the Principal – Religious Education/Administration (APRE/APA). The team is supported by our Leader of Diversity, Leader of Teaching and Learning, Curriculum Support teacher, EALD Support Teacher, IT Technicians, Administration staff, Indigenous Liaison Officer and Student Counsellor.